Primer partido, PRIMERA PELEA de Lavar!
Va a ser largo el año...
Arrancó así: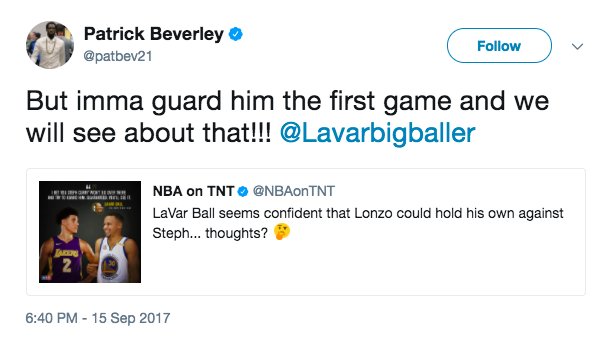 Despues durante el partido:
Beverley wrote:
"Weak ass motherf--ker. Bring him out on the court with me and I will tear his ass up."
Beverley wrote:
You can't see me!
Terminado el partido
Beverley wrote:
"Fucking win. Weak ass motherfuckers. Don't put that mother fucker on me."
En la entrevista post partido en el vestuario
Beverley wrote:
"I just had to set the tone," Beverley said after the game. "I told him after the game due to all the riff raff that his dad brings that he is going to get a lot of people coming at him. He has to be ready for that, and I let him know after the game. But what a better way to start than 94 feet guarding him."
Lavar post game
Lavar wrote:
"Yeah, you shut the m-----f----- down [...] And your check still ain't going to go no higher than what it is. Yeah, you shut him down. OK ... Who is Patrick Beverley? He played all last year and nobody said nothing about him. Now we are looking at your first game. Why? Because Lonzo's name is attached to it.
Lavar wrote:
"So you got to be [all hard],"[...] "Let's see what you do the next five games, if you are going to be pumped up towards everybody like that and go back to your 0-for-5 shooting and your two or three rebounds. Nobody is going to care about you. But you put my son's name in it and you put my name in it, now you got some action and you got some people talking."
Lavar wrote:
"You ain't got to say it by name because I saw the way he looked at me when he was on the side of the bench" "He was going to see if I can get eye contact. I just looked at him like I looked right past him because he's nobody. You talking to Big Baller.
Lavar wrote:
"One game. OK, you still don't have your own shoe, you are still not your own boss," "I know why you are looking at me. And you want to tell me that I got your son! Well I got two more you can try to get some of, too. They will be here, don't worry about it. I don't worry about one game."
Y Lonzo como siempre, serio
Lonzo wrote:
"[Beverley] plays hard, he knows his job, he does it very well," [...]"He gets under people's skin and plays defense and does what he can to help his team win."

"We got blown out so I didn't play too well."